Big Elk Energy Systems is located in Tulsa, OK and specializes in engineering, designing and fabricating measurement systems and integrity equipment. Meter, Valve & Control is the manufacturer's representative for Big Elk covering the Western United States (CA. HI, ID, NV, OR, WA). Their main product line and services include Meter Skids, Pressure/ Flow Control Skids, EFM/GC Buildings, Pig Launchers & Receivers, and much more.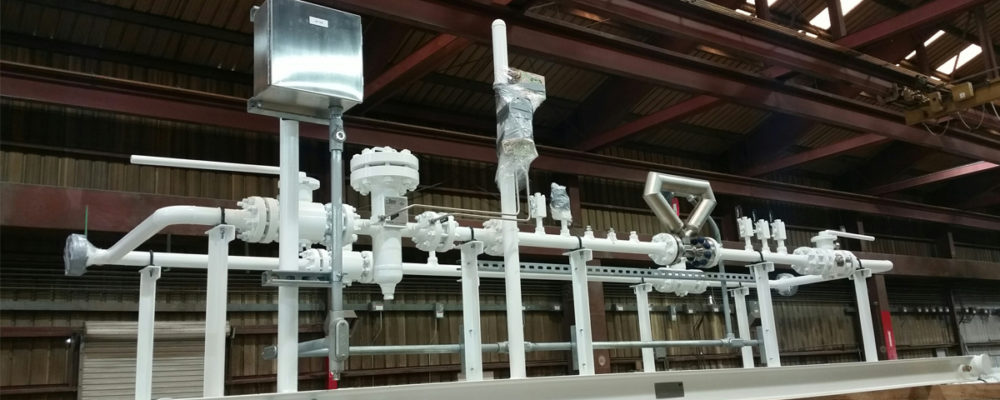 Big Elks newest addition to their product line is the M3 Mobile. Master. Meter. It is a portable, highly accurate solution to field verify and calibrate custody transfer gas meter systems. Features include high pressure adjustable piping, wide array of configurations and flow calibration range of 1 – 150 ft/sec. The M3 uses a Sick FLOWSCI600-XT Ultrasonic Meter for its wide rangeability and high accuracy.
Big Elk is a leading fabricator of measurement systems including meter skids, pressure/flow control skids, Main Line Valve Settings (MLVs) and EFM/GC Buildings all built to customer specifications. A few examples of the meter skids include Ultrasonic Meter Skids (bi-directional and one direction) and Coriolis Metering Skids.
Big Elk also specializes in fabricating integrity equipment such as Pig Launchers and Receivers and Automated Sphere Launchers. All are built to customer specifications in their Tulsa, OK facility. Other products include Header Piping fabrication and complete systems.