The D-100 is a totalizing display module that provides a local indication of liquid or steam flow rate and total data. The flexible design can also be configured with an optional network interface to communicate flow data to the building control network. It is housed in a steel wall mounted enclosure with a built-in user interface/display. The standard flow input accepts 4-20 mA, pulse or contact closure flow signals. The versatile D-100 can also function as a network interface for 2 additional analog rate inputs and one additional totalizing pulse input. It can also be configured with up to 4 optional analog outputs.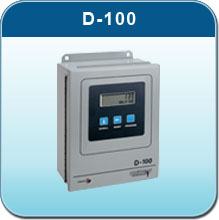 The D-1200 series displays are modular display centers featuring one or more multi-function LCD indicators. The last digit in the model number designates the quantity of LCD indicators. Integral power supplies furnish all power requirements for the displays and any of ONICON's inline or insertion flow meters.
This display converts any of ONICON's insertion or inline flow meters into a complete flow monitoring system for local or remote indication of flow rate and total volume. The flow meters may simultaneously support other remote devices such as BTU meters, building control systems, and data acquisition systems.