BTU Meters
SmartCard Chip Card
The highly flexible Istec SmartCard offers a previously unachieved level of operating convenience for recording energy costs. It guarantees fault-free, reliable reading of the registered consumption values in the simplest possible way. The SmartCard is certified in accordance with the industrial standard ISO 7816.
The Istec SmartCard is a versatile communications module of the Istec system. All units with the smart slot interface can be read out with this card. The modular design of the system components enables a smoothly operating interconnected energy measuring system that can be flexibly configured to meet user needs.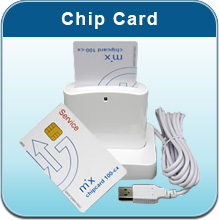 The SmartCard easily acquires and transfers even large data quantities. The acquired consumption data are mailed to the billing service after being read out by the user. The data for a billing period are read into the computer system there electronically via an interface. In the process, the consumption values are automatically assigned to the corresponding measuring unit. The highest possible security standards prevent tampering of any kind.
The Istec SmartCard is as easy to use as a credit card. The card has established itself as a standard; its reliability and security are convincing arguments. The data are read out within a few seconds, making transmission errors caused during typing or handwritten data entry a thing of the past.