Pipeline Corrosion
Barlow Insulating Joints
Return to Pipeline Corrosion
The Barlow Insulated Flange joint greatly simplifies corrosion control and cathodic protection. The flanges are fully assembled and tested at the IMAC factory and shipped from stock.  Installation is very easy, with just two butt welds and no assembly necessary. This allows for easiest and safest method of installation for electrical isolation and cathodic protection.
Barlow insulated joints has been the preferred insulating method of corrosion control for many utility companies and contractors because of these factors. The Barlow product line also includes: TMK Surge Arrestors TMKE Fiberglass surge arrestor enclosures, Testations®, and Testation® housing boxes. Barlow Insulating flange joints are very reliable eliminating leaks due to improper installations.
Preassembly eliminates kits and saves on site labor
Simplifies installation, welded in, monolithic style
Controlled assembly and pre-testing eliminates adjustments
Mechanical design resists affects of stress and resulting insulation failure
Serviceability and maintenance greatly simplified
Thicker dielectric sleeves (1/8″) machined to precise, close tolerance dimensions, both length and diameter
Flange bolt holes line reamed to provide perfect alignment and close tolerance fit to the dielectric sleeves
Flange studs machined from alloy steel and heat treated to ASTM Designation A-193-52T Grade B-7, resulting in superior strength and greater resistance to stress induced elongation
Coupling nuts machined from alloy steel and heat treated to ASTM Designation A-194 Class 2-H
Precision machined steel washers, flat parallel, and counter bored allowing for square alignment and clearance for the dielectric sleeves. The clearance prevents stress on the sleeves after torquing flange studs
Flange gasket precision cut for ideal fit with small projection into the stream to prevent contamination or bridging of the joint inside the pipe
Precise assembly with accurate torquing carried out in stages followed by re-torquing after 24 hours
Tested for minimum resistance of 2,000,000 ohms prior to packing in special containers
Flange gap sealed with epoxy resin to prevent contamination during post assembly handling
Many sizes in stock, if custom, typical lead times are very short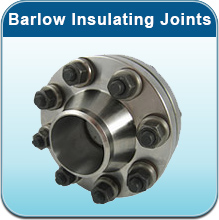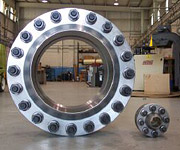 Barlow Insulating Joints Links