Gas, Industrial Gases, Water & Wastewater Electronics
Talon Family Software
Return to Gas Electronics
Windows 7 Starter Edition – NOT SUPPORTED on any Eagle Software
Eagle Research Corporation® designed the TalonTM family specifically to meet the user's needs, providing software modules for both central office and field operations. TalonTM Software Suite provides application solutions for Natural Gas, Water/Wastewater, Environmental Protection, Steam, and Electrical applications. Industrial/Commercial Measurement, Pressure/Temperature Monitoring, Supervisory Control, and Odorization are but a few of the systems that can benefit from the use of this software.

The TalonTM family of products has been designed as a Windows® based setup, configuration, device management, and polling tool for the Eagle Research Corporation® family of products
Windows® Explorer style formatting and menus for station viewing provide a familiar look and feel for a shorter learning curve for use.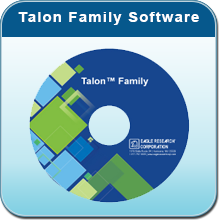 Talon Family Software Links