Gas, Industrial Gases, Water & Wastewater Electronics
Water / Wastewater
Return to Gas Electronics
Eagle Research provides a product solution to water and waste water utilities using its core products based on the XARTU/1™ and Talon™.
For water utilities Eagle Research provides it's SCADA software Talon™, plant filter controller, field tank Level monitoring with telemetry and a field booster pump controller with telemetry.
The plant filter controller is based on the XARTU/1™  with a touch screen to provide normal operation settings for influent flow control and filter level control. It also provides one click start of backwash in auto mode as well as local interface and plant SCADA interface.
The field tank RTU is also based on the XARTU/1™.  It can monitor up to three tank levels, control chlorine pumps and communicate to the plant SCADA.
The field booster RTU is also based on the XARTU/1™.  It can control up to three pumps based on the remote tank level or based on time.  It can monitor pump current, run time, suction/discharge pressure and signal from the flow meter.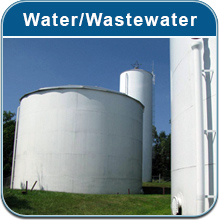 For wastewater utilities Eagle Research provides Talon™ SCADA software, plant monitoring/control, and lift station control panels with telemetry.
The field lift station control panels are based on the XARTU/1™. The control panel includes all the necessary switch gear for monitoring/controlling the pumps as well as telemetry to communicate with plant SCADA. The panels are available to support different horse power pumps to meet the utilities' requirements. It can control up to four pumps based on the wet well level. The controller can support any direct start, soft start or variable frequency starters.  It can monitor pump current, run time, and signal from the flow meter. Eagle Research also provides the XARTU/1™ product solution to retrofit existing lift station control panels for telemetry.
Eagle Research Corporation is dedicated to meeting the needs of the water/wastewater industries by providing quality products and professional services.  We are ready to work with engineering, funding agencies and utilities to provide design/project  assistance for telemetry systems. We are uniquely positioned as a complete turnkey provider of SCADA solutions and are widely recognized in the industry as a premier manufacturer of UL Certified Control Panels, Remote Terminal Units (RTUs) & integrated telemetry systems.