Rotary Meters
Delta Rotary Gas Meter
Return to Rotary Meters
Itron rotary meters are used when very accurate measurement is required in circumstances where the gas flow can be low or irregular. Because of its volumetric principle, the Delta™ meter's metrology is not influenced by installation conditions. Consequently, it can be used to build very compact stations without installing a straight pipe inlet in front of the meter. Delta meters are approved for fiscal use.
The Itron Delta meters are part of the "c" series, equipped as standard with the Cyble™ target.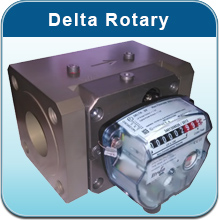 Key Features
Flow rate: from 9CFH to 2300CFH 
Available in 1.5″ NPT & 2″ Flanged
1.5″ 230psig MAOP – 2″ 280psig MAOP
Equipped with pulse output
Main Benefits
Excellent long term metrological stability, confirmed by customers
Metrology not influenced by installation conditions nor stop-and-go flow rate
Large rangeability up to 200:1 approved by the PTB, NMI and other official bodies
Minimal pressure loss
Available in aluminium, ductile iron or steel for all applications