Submetering Equipment
RCM-100 Remote Primary Displays
Return to Submetering Equipment
Remote Displays for Hot or Cold Water Meters
For use with pulse registers
Single or Dual Meter Displays
AMR Output
Tamper Detection
Resolves Customer Complaints
The RCM-100 is a remote primary display with ability to communicate with all types of pulse equipped water meter registers. The RCM-100 is very unique in that it also comes standard with a pulse or encoded (Sensus protocol) output for connection the a wireless AMR system or other data collection system.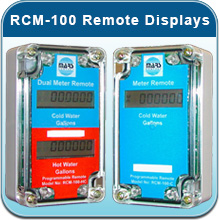 The customers and meter readers can access the meter reading without having access to the water meter itself. It is available in single and dual register models with color coding for hot (red) or cold (blue) water usage.
The meter reading is displayed on a 6-digit LCD powered by a 3.6 Volt Lithium battery delivering a service life calculated to more than 13 years. The heart of the RCM-100 is a microprocessor to interrogate an encoder or store counts from any pulse type-metering device. The LCD display continually indicates the current meter reading.
The RCM-100 has a communication connector that can only be accessed when the unit cover is removed. This connector allows the dedicated programming device to configure and setup the unit.