Water Meter Couplings
Each meter can be fitted with a set of Union Connectors
A set of Union Connectors includes 2 Nuts – 2 Tailpiece – 2 Gaskets/O-rings.
Note: Add Space: 1/16" for Fiber Gasket (Hot Water), 1/8" for Rubber Gasket (Cold Water) The O-rings do not require added space. Couplings come standard in low lead envirobrass.  Standard waterworks bronze and polymer couplings are available upon request.
Flanges
Bronze flanges available in 1-1/2" & 2" sizes only. Cast iron flanges available in all sizes. All cast iron flanges are 125# rated and conform to ANSI B16.1 Class 125.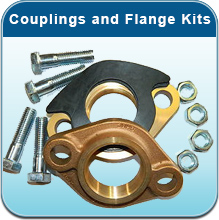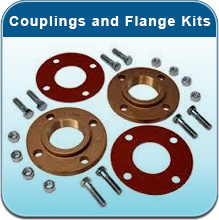 Couplings and Flange Kits for Hot Water Meter Links