Water Meters
Mars 1½" – 30"
Return to Water Strainers
Sizes Available
Available in 6″, 8″, 10″, 12″, 16″, 18″, and 30″. For the 16″, 18″, and 30″ options, please call for pricing and availability.

Installation
The Z-Plate Strainers should be installed upstream from the in-line meter.
Maintenance
The Z-Plate Strainers can be easily serviced without removal from the main line.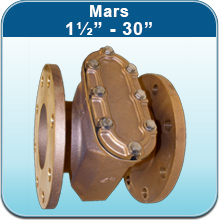 Operation
Z-Plate Strainers are designed to protect water meters from the effects of foreign matter and debris. The Z-Plate design is beneficial to the hydraulics of a water line by canceling the turbulence and providing smooth, laminar flow, thereby reducing the need for the installation of 8 to 10 diameters of straight pipe ahead of the in-line meter.
Application
The placement of the Z-Plate Strainer ahead of the in-line meter will maximize revenue and extend the life of the measuring element. To be used only in POTABLE COLD WATER up to 120 F (50 C) and Working Pressure up to 150 PSI. Working Pressure tests are performed prior to shipment. No further adjustments are required before installation.
Compliance to Standards
The Z-Plate Strainers comply with all material and design requirements of the American Water Works Association Standards C701 and C702, as most recently revised.