Return to Monitoring
WaterSignal is revolutionary product that monitors your new or existing water meter for downstream leaks, total consumption and inefficient usage. This information leads to savings, on average 14 percent and alerts customers to slow or catastrophic leaks potentially saving thousands of dollars.
WaterSignal is a battery operated device that can measure the water flowing through a water meter. Water usage is either gathered from the pulse output from the water meter register (if available) or can count the revolutions of a water meter register allowing it to monitor water usage. The water usage is sent wirelessly to WaterSignals dataserver and then sent to an online portal where managers and owners can vew a property's water consumption for the entire month, day or hour.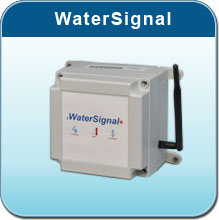 With the data the system collects, it can pinpoint if irrigation system usage is excessive, if it runs during rain storms or faulty sensors, or if buildings are using water on days no one is there. Charts provide a quick comparative view of gallons used for any time period. Alarms can be set for each customers system to alert them of potential issues.
WaterSignal Links