Gas, Industrial Gases, Water & Wastewater Electronics
Solenoid Control Interface (SCI)
Return to Gas Electronics
The Solenoid Control Interface (SCI) allows the Eagle XA Series products to perform remote control of pressure or flow.
An Existing gas regulator can be converted to remote control pressure or flow without requiring any process piping modifications. Only some instrument tubing and regulators are required for the interface to the SCI.
The SCI is designed to operate self contained or pilot operated pressure regulators. It can also be used to control diaphragm actuated instruments valves.
Intrinsically safe – when using IS barriers
Low Power – 24V with IS barriers, 12V without
Requires no power when not making adjustments
On power failure, SCI blocks in the loading pressure at last position
Mechanical spring in wither the process or pilot regulator sets the low operating pressure limit.
Quick response to load changes, with mechanical regulator or pilot responding
Venting only occurs during unloading control process unlike continuous bleeding when using traditional I/P transmitters.
(2) Pulse Inputs for Dual Meter Configurations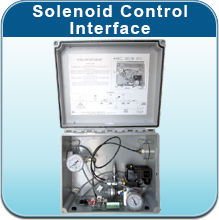 Solenoid Control Interface (SCI) Links